Double Faced Satin Ribbon (poliéster)
La cinta completa el aspecto final del libro. Aplicada al extremo superior del libro, debajo de la cabezada, sirve para marcar partes determinadas del libro, así como marcapáginas. Las cintas ofrecidas tienen los bordes reforzados para evitar que se deshilachen.La cinta debería hacer juego con el color de encuadernación del libro, y por eso les ofrecemos una amplia gama de colores.
Suministro
Todas las variantes de cintas del catálogo están disponibles en almacén en bobinas de 300 m (anchura 5 mm), 100 m (anchura 10 mm) y 50 m (anchura 20 mm) de longitud. Colores y anchuras especiales a consultar.
Ficha técnica
| | |
| --- | --- |
| Material: | 100% poliéster |
| Anchura: | 5 mm (300 m), 10 mm (100 m), 20 mm (50 m) |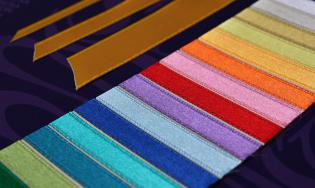 The colours of images can be different from real product because of diverse screen definitions. In the case of serious interest we will send you a printed catalogue.