Polyester Combined Headband
La cabezada es un elemento muy importante de la encuadernación, que combina en sí mismo funcionalidad y estética. Aplicada a ambos extremos de libro forma una transición entre el lomo del libro y el taco, y parcialmente llena el espacio vacío resultante. También protege el lomo del polvo. Sin embargo no se puede olvidar su función decorativa. La cabezada debería hacer juego con el color de encuadernación de libro, y por eso les ofrecemos una amplia gama de colores.
Suministro
Todas las variantes de cabezadas del catálogo están disponibles de almacén en bobinas de 250 m.
Ficha técnica
| | |
| --- | --- |
| Galón: | 100% rayón |
| Cuerpo de cabezada: | 100% algodón |
| Anchura: | 14 mm |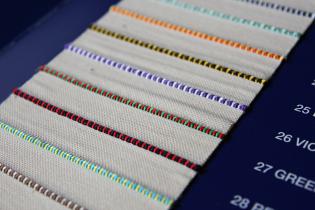 The colours of images can be different from real product because of diverse screen definitions. In the case of serious interest we will send you a printed catalogue.